Complete Community
What does it mean to live in a Complete Community?
It means you've chosen to move to a neighbourhood that offers all the amenities and conveniences you need to live comfortably. In addition to plenty of gorgeous green space, Westerra will also feature a retail shopping district and a business park with convenient access to many employment opportunities.
With options for home ownership or apartment rentals, this 490-acre Complete Community truly is the best place to Live, Work, Shop, and Play.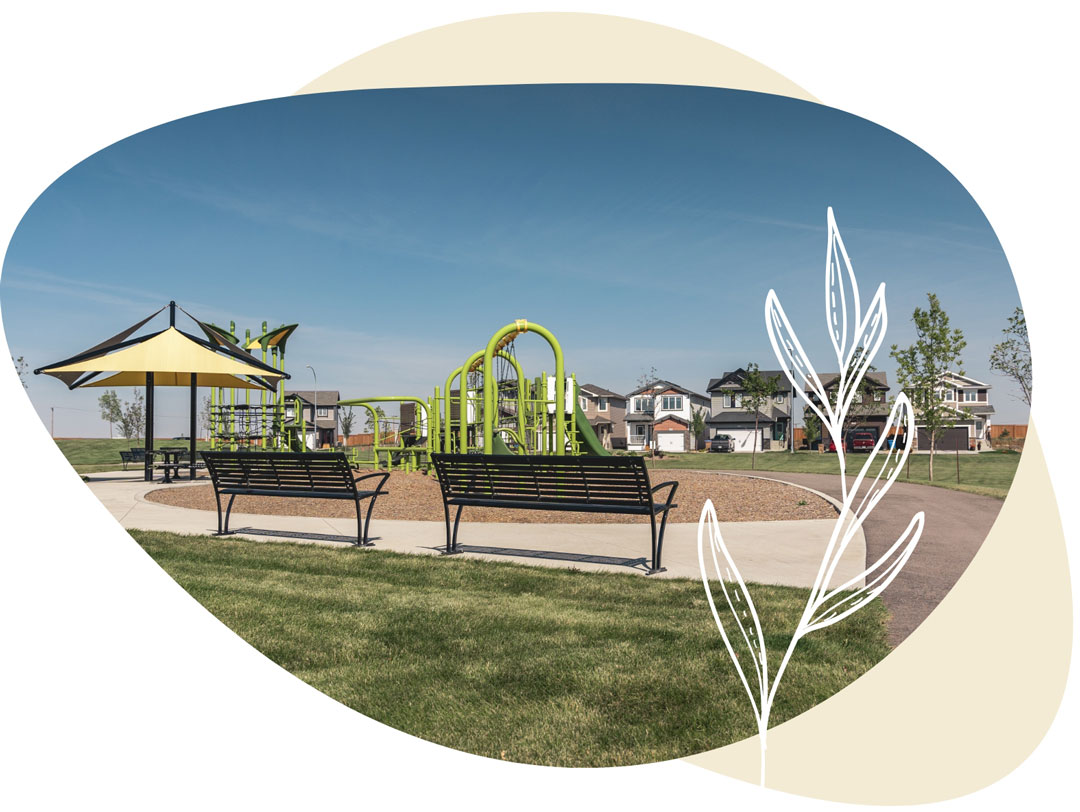 Live
Westerra is an urban community situated in a suburban setting.
That means you can jump in your car and be downtown in mere minutes, or take a quick stroll to enjoy unspoiled views of stunning prairie sunsets. Here you can truly enjoy the best of both worlds.
Our exceptional builders offer a variety of single family homes, townhouses, and duplexes suitable for single family and multifamily living, with architectural controls guided by Craftsman design principles. We truly believe good design standards foster community pride, improve home values and protect resale values.
Whether you're looking for apartments for rent or homes for sale, Westerra works with the best builders in Regina to ensure you have a well built, well loved place to call home.
Explore Overall Neighbourhood Plan
Explore Residential Plan (Phase One)

Senior Living
Trinity Manor at Westerra, A new retirement community where you can enjoy all the comforts of home—plus your own health and wellness spa, a wonderfully inviting dining room, and a wide selection of social and recreational activities. This is Regina's newest active senior living retirement community. To inquire about options to rent or life lease a condo-style suite while still having access to all the benefits of Complete Community Living, contact Trinity Manor at Westerra today at (306) 522-3135.

Apartment Living
Westerra Fields, Broadstreet's apartment community, offers the peace and quiet of the Saskatchewan countryside, along with outstanding lifestyle amenities. To inquire about apartments for rent, contact Westerra Fields today at (866) 736-8515.
Work
We are conveniently located near many major west side employers.
We're also the closest new community to the downtown core located along an express transit route. This means that living in Westerra makes it quick and easy to get to and from work. Plans for a future business park will add even more convenience to this popular new community.
Many of our current residents enjoy convenient commutes to nearby employers, including:
Shop
We are excited to introduce you to Horizons, the only retail site servicing West Regina.
Horizons will offer a wide range of goods and services; including a grocery store, gas station, drug store, bank, as well as fast-casual and dine-in restaurants.

Play
Looking for a community where you can really enjoy the great outdoors? Look no further.
Westerra is a nature-lovers paradise. With over 46 acres of green space and 8 kilometres of pathways, there's no shortage of outdoor space. Walk, bike, rollerblade, or jog this friendly community, which is complemented by neighbourhood parks and connected by local and regional pathways.
Community parks provide a gathering place for residents to get together and visit, while playgrounds provide children with hours of fun. We're also proud to be home to Regina's first purpose-built cricket pitch, designed specifically for the players and spectators of the sport.
Westerra is located blocks from A.E. Wilson Park and is designed to be connected to the regional Devonian Pathway section of the City's Multi-Use Pathway System.
Did you know you can book Westerra's athletic field?
To book the athletic field at Sharp Park, please contact City of Regina, Central Scheduling at:
(306) 777-PLAY (7529)
CentralScheduling@Regina.ca
www.Regina.ca